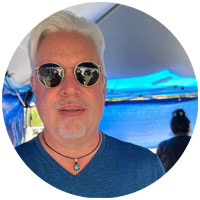 Ramon in the Sun
Thank you for taking time to visit. I am a technology professional, product manager, UX/UI designer, video and sound artist who lives and works in Albuquerque, New Mexico. I have worked in technology in various roles most of my life and am always excited about the possibilities of a new design. I am passionate about User Centered Design and strive to ensure projects and products deliver a great experience for everyone involved! My normal engagement process is outlined in the VisionMonitor iRis case study.

For many years, I worked for VisionMonitor Software where I Led product development and implementation of data analytics technologies for global commercial airlines. I was responsible for all US and European projects from scope and planning to resource allocation and delivery. My role also included continually evolving the look and feel of the software product, as well as multimedia designs used in marketing efforts. These designs spanned software interfaces, web graphics, videos, and presentations. In my career, I worked as a Senior Creative Consultant for CommonVision, as a Director of Web Development for eBopp.com, and as a Product and Technology Specialist for Akai Musical Instrument Corp.

My current focus is on the development of projects that include motion graphics, video, sound designs, editing, as well as audio composition and correction for video projects. I work in all aspects of multimedia design and am very passionate about my work. Check me out on LinkedIn if you are interested.

Also check out my YouTube channel for original videos and music. You might like it!

Oh yes, it is later than you think, so have a nice day!